PWL CS:GO Season 1 saw D13, Wings Up, New Happy, and Checkmate dominating the first and second qualifier without any significant threat in the process.
With the conclusion of PWL CS:GO Season 1, D13 and Wings Up have booked in two out of eight team slots in the Valve RMR Event of the year. In the process, the Mongolian squad crushed SHPL, Lynn Vision, and Checkmate. On the other hand, Wings Up took down Phoenix Gaming, NG Esports, and Team LZ.
Meanwhile, the second qualifier saw many upsets happening. Both NG Esports and Huat Zai will miss the first RMR Event of the year after eliminated by New Happy.
Lynn Vision and After Gaming were close in getting their spot in the playoffs, but got eliminated against New Happy and Checkmate, respectively, in the decider match.
With their recent performance, D13 was undoubtedly the expected team to set foot in the playoffs. In recent months, Munkhtamir "tamir" Ganbaatar-led squad was able to show promising results by winning Huya DarkHorse League Season 8 and various standings at other competitions.
Another point that raised an eyebrow was their outstanding results in the ESEA Season 36 Open European Division Playoffs, placing 9th-16th among 709 registered teams.
While Wings Up had performed slightly below expectations in recent months, PWL CS:GO Season 1 Open Qualifier 1's results have proved it wrong and strengthen their position as a relevant team in the highest level of Asian CS:GO. In the process, they have taken an act of revenge for their defeat against Team LZ in Funspark ULTI 2021, which also cost them a spot in the playoffs.
The East Asian quartet will be joined by six other teams in the competition, consisting of TYLOO, ViCi Gaming, Renewal, and Invictus Gaming.
To put it another way, the absence of non-East Asian teams will give a hard slap to the Southeast Asian scene, not to mention the constant loss in the first and second qualifiers by Chinese and Mongolian teams. Having said that, every team still has their chance to bring something new up in the upcoming three RMR Series events.
With the first RMR Playoffs to commence soon, all teams will focus on securing as many RMR Points as possible in the upcoming three RMR Series events, leading to a spot in PGL Major Stockholm, scheduled to take place in October this year.
The team list for the Perfect World League (PWL) CS:GO Season 1 Playoffs looks as follows:
| | |
| --- | --- |
|  TYLOO |  D13 Esports |
|  ViCi Gaming |  Wings Up Gaming |
|  Renewal |  New Happy |
|  Invictus Gaming |  Checkmate |
How to Keep Track of the RMR Event Matches?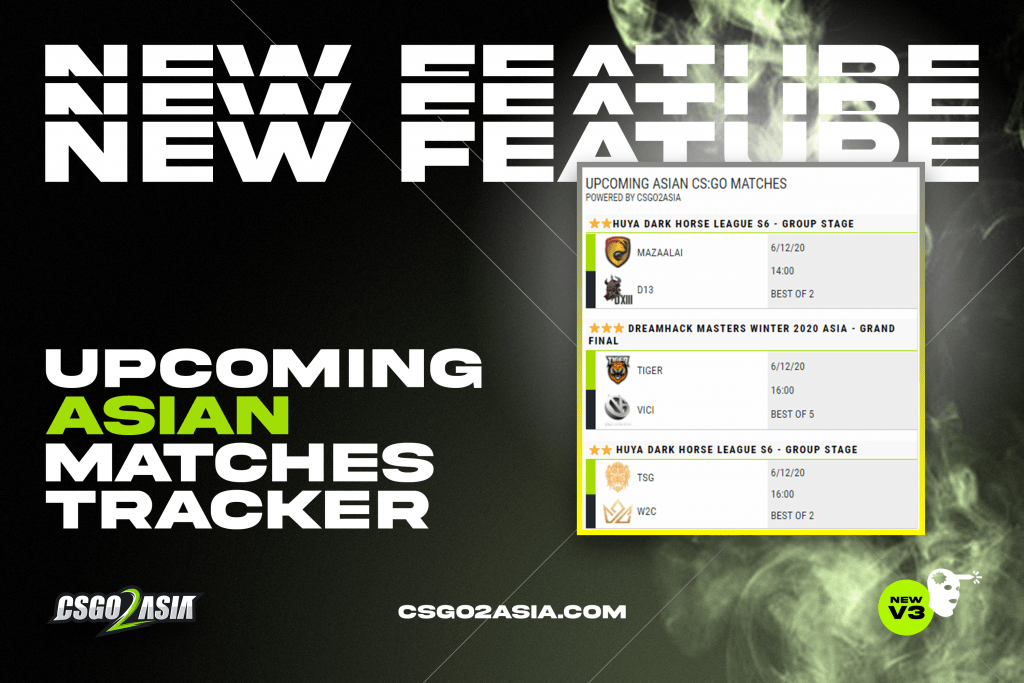 CSGO2ASIA.com offers a real-time match ticker, updated daily across all major matches to watch. We categorize the match from one to three stars according to both team's lineup, tournament rounds, and the tournament's prestige.
You can always join the euphoria and watch your favorite team play by clicking on the match, and you will be directed to the live stream of the match. Just to remember that we use Singaporean Time (UTC+8) for all of the schedules. Check it out right now on the right side of our website!
Source: CSGO2Asia
*****
About Skyhigh.Vip
Skyhigh.Vip is a global institutional investor with vast interest in Arts / Construction / Education / Business Services / E-Sports and various other growth industries.