As TI10 draws closer, we take a look at how Dawnbreaker will fare in the first premier tournament in which she is eligible in Captains Mode.
When Topias "Topson" Taavitsainen travelled to TI8 with OG, it was the first premier Dota 2 tournament of his lifetime. His counterpart within the Dota 2 heroes is possibly Dawnbreaker, who recently got introduced to Captains Mode with the release of Dota 2 patch 7.30c, just a month before. As we head into TI10, we have seen the hero being used in a few professional tournaments, but none in which the prominent teams competing for the Aegis were involved. So as we head into TI10, the question looms – what effect will Dawnbreaker have on The International 2021?
Performance in professional games
Ever since Dawnbreaker was introduced to Captains Mode, a total of 326 professional games have been played over all tournaments. Here are the stats that she has over those games (taken from datDota):
Picked: 50 games
Wins: 15 games (30% win rate)
Banned: 82 games
Contested: 132 games (40.50% contest rate)
Those numbers don't look too good for Valora, do they? The hero has found it difficult to make a huge impact in games, registering a win rate of 30%. The strange thing is, after patch 7.30c, there were a few players complaining about how strong she is for the first two levels in lane, having the ability to dish out 400 damage at level 2. So her first two skills, Starbreaker and Celestial Hammer, were nerfed in patch 7.30d, but there was nothing done to compensate for it, for a hero who is already suffering. Her win rate in patch 7.30c was 30.95%, and after the nerfs, fell to 25% in patch 7.30d.

Performance in pub games
Dawnbreaker has been doing poorly in professional games, but what about pub games? Here's a look at her performance in Divine and Immortal brackets from last month (taken from Dotabuff):
Pick rate: 14.22%
Win rate: 49.07%
Majority of the games have been from the offlane, followed by the safe lane and a small number in mid lane.
Even though her pub performance in the highest tier of pubs isn't abysmal, it is still below average, and there is a clear drop in her pick rate after the release of patch 7.30d.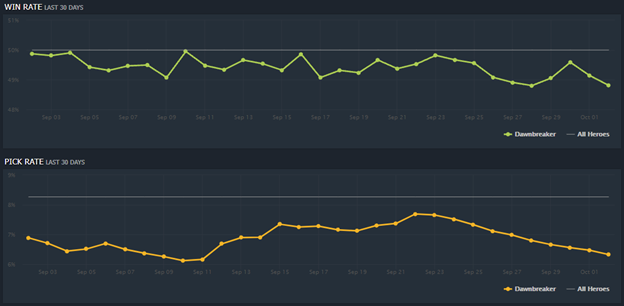 The picture looks quite bleak, doesn't it? But there might be a couple of things going in her favor.
1) Surprise factor
None of the top teams have showcased their usage of Dawnbreaker yet, and all the top teams are bound to come up with strategies that will see Dawnbreaker in ways not most would have imagined. She could catch teams by surprise, based on how she is used.
2) Versatility
Dawnbreaker is one of the most versatile heroes in the game right now. Her most prominent role is position 3 in the offlane, but she can be useful in all roles from position 1 to position 4. Evil Geniuses' carry Artur "Arteezy" Babaev has been trying out Dawnbreaker in the position 1 role in pubs, and her new Aghanim's Scepter makes her a potent healer, basing all her game around Solar Guardian.

The new Aghanim's Shard she got in Dota 2 patch 7.30 is surely a great tool to have in her arsenal. It makes her magic immune during Starbreaker. According to David "Moo" Hull, who spams the hero, it is pretty much a must-get item every game for her.
If previous TIs have shown us anything, it's that most of our preconceived notions about the meta don't hold when it comes to the biggest stage in Dota 2, and this year it should be no different.
While Dawnbreaker wouldn't be expected to dominate the tournament as one of the most contested heroes, there are bound to be games where she will make a significant impact. The most interesting thing to see is which position do the top teams in the world deem the best for her.
Source: GosuGamers
_______________________
About Skyhigh.Vip  
Skyhigh.Vip is a global institutional investor with a vast interest in Arts / Construction / Education / Business Services / E-Sports and various other growth industries.  
Several of its popular portfolios include GO Chambers which is the world's largest business chamber listing provider with over 30,000 active chambers as its members.  
Flexgigzz is the Asia leading marketplace for freelancers service and together with SOHO Learning Hub which is an online platform for short courses and both of them aims to be the number one provider in Asia. For growth industries such as E-Sport Authority which is dedicated to providing independent media coverage to all E-Sport News related from around the world and for the art world, there is Atelier Auction which is an investable art auctioneer and being in the art scene for decades.